Douglas Silas Solicitors, Gable House, 239 Regents Park Road, Finchley, London N3 3NS
Tel: 020 8349 7700
Email: team@dsslaw.co.uk
www.SpecialEducationalNeeds.co.uk
Douglas Silas Solicitors are the legal experts specialising exclusively in SEN, helping parents successfully through the SEN process. Their website: www.SpecialEducationalNeeds.co.uk is a popular resource used by thousands of parents/professionals.

SEN.fyi (App)
Everything You Wanted To Know About SEN – all in one place!
We've done the hard work, so you don't have to…
This simple App is an essential resource for Smartphone or Tablet for anyone (whether personally or professionally) involved with a child or young person with Special Educational Needs (SEN).
The App has 6 main sections and gives instant access to:
• News
• Updates
• FAQs
• Info
• Law
• Videos
A Guide To The SEND Code of Practice
Douglas is also the author of A Guide To The SEND Code of Practice, which is available to download free for all eBook readers, including the Kindle, iPad/iPhone, Nook, Kobo, Android devices, etc.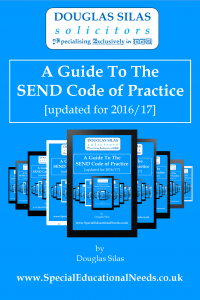 For more details about the guide click here.
Also available to download on: