Here is some amazing news about a young boy with profound learning disabilities who can play jazz, reggae and classical music. In fact, whatever music his teacher gives him to play along with, he can improvise to!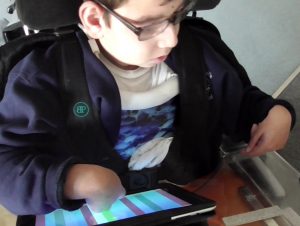 With just the touch of his hand, Travis makes music!
He's playing along to a specially composed backing track and it sounds really good!
His teacher bought the ebook, The Improvise Approach, and she very quickly learned how to help Travis become a real musician.
Travis can now play his own melodies independently. Everything he plays is in tune. He can play jazz, reggae, classical, world, ambient music – whatever is in The Improvise Approach ebook, he can play along with. He sounds incredible.
His teacher also helped his classmates to do what he can do and now they play together as a band.
It took only a few music sessions to show these young people how musical they are.
If you'd like to know more, check out www.improviseapproach.com.
The ebook is available from the iBookstore. It comes with simple picture instructions and 10 audio tracks, everything you need to break down the barriers and to empower another budding musician.
Empowering everyone to make music creatively!
The Improvise Approach is new and innovative! It's an interactive guide ebook with 10 built-in backing tracks. It shows you exactly how to empower anyone with profound and complex needs to create melodies independently on their iPads in a free and spontaneous way. It just uses these notes – C D E G A. It's all about accessing and utilising the skills each player has and providing them with a tool to be musically creative. This is real music-making, not touch switches where melodies are pre-programmed.
ThumbJam app is your musical instrument on your iPad (from the App Store £6.99)
The 10 music audio tracks are included in the audio section of this ebook. They have been specially composed to sound 'musically right' alongside the player's melodies.
Each music track has its own page and picture to enable players to identify music choices. There is a count-in/no count-in play button option.
Easy instructions and pictures show you how to set up one or more iPads for solo or group music-making. There are also plenty of useful teaching ideas and advice for working with people who have disabilities.
Who is The Improvise Approach for?
Teachers, parents and carers of children and adults with severely restricted movement/ profound/complex needs to develop creative and spontaneous music-making.
No music experience required.
​What do I need?
More good stuff!
Excellent accessibility – minimal touch on the iPad screen to make musical sounds. Any part of the body (skin contact) can be used to control playing
An inclusive experience – can be used alongside tuned percussion instruments, Apollo Ensemble, Soundbeam, Skoog, Garageband
Backing tracks appeal to all ages and abilities
A real confidence builder
Tested for over 5 years in diverse special needs settings.
Demonstration of The Improvise Approach
If you are a parent group, special school or establishment within the London M25 area and would like an introductory demonstration, get in touch via the contact page.